Posted by Kate G. & Lea D. on Jul 18th 2019
SSRC student staff members, Kate G. and Lea D., led a full day of recycling education sessions for third through fifth graders at Eaton County Science Adventure Camp. The kids cycled through six stations, including tree cutting, squid dissection, and Kate and Lea's waste hierarchy workshop.
Passionate members of SSRC's Recycling Outreach Team, Kate and Lea prioritize practicing what they preach. The duo used zero waste practices to create the workshop educational aides. They scavenged in recycling bins for polystyrene (Styrofoam), boxboard, and paper, and gathered used adhesive and markers from the Spartan Upcycle donation shelves.
"We covered a lot of ground in 35 minutes," said Lea. "We took the kids from litter and landfills to the recycling process of various materials. It was important to us that we expose them to the zero waste hierarchy and its principles of highest and best use of resources. Our main message was 'throw away' doesn't equal 'go away.'"
"We started out asking the kids 'What are the 3 R's when it comes to protecting our planet?'" said Kate. "This got them talking about things they know, which is 'reduce, reuse, and recycle.' Next we asked, 'What happens when an item can't be recycled?' That got us talking about trash and litter. We asked, 'what kind of things do you see on the ground and where does all the litter go?'"
From there we got into discussing ocean pollution and the five hotbeds of debris floating in the water's five major gyres. The swirling swaths of debris accumulate in the Atlantic and Pacific oceans where the currents convene.
To show the students where the Five Gyres are, Kate and Lea created the Ocean Pollution Board. Starting with a world map, torn from an old atlas, the two glued on plastic fragments, nurdles, glitter, and plastic beads to symbolize the litter and microplastics. In particular they highlighted the Great Pacific Garbage Patch, which spans an area two times the size of Texas.
From there, they talked about how long materials last in a landfill, and led the kids through the Garbage Graveyard game. The youth tried to match a plastic container, an aluminum can, a glass bottle, and other items with the number of years it would take to decompose. For the garbage gravestones, Kate and Lea cut up polystyrene found in MSU's material recovery facility, mounted thick paper, and coated them with a metallic silver spray paint, that was donated to Upcycle.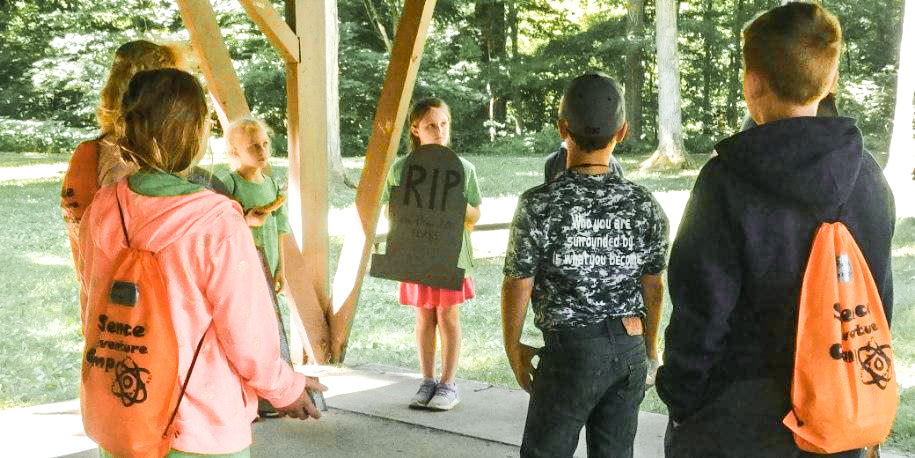 Moving beyond garbage, Lea and Kate introduced their students to what happens after their paper, plastic and metal items are collected for recycling. Using the Recycling Step Cards as a timeline, they went over the steps involved in creating post-consumer recycled material. For instance, they highlighted the four steps of paper recycling: pulping, deinking, drying and cutting.
"We wanted the kids to guess the processes and then come together and talk about them, instead of us just writing them out on our white board" said Lea. "Not only does this help the kids stay engaged, but then they can start to draw their own conclusions about why we can't recycle mixed materials—because the different materials require different processes."
The educational cards were made from boxboard pulled from recycling bins, and they choose to use donated glue instead of laminating them. They also diverted vinyl sleeves away from the landfill by using them to carry the card sets. In the end, they didn't purchase any new materials for the workshop.
Throughout the activities, the children stayed involved, asked questions, and shared their waste reduction ideas with their peers. "We hoped this would spark discussion about easy lifestyle changes and tips for living a life with less waste," said Kate.
This was the first time SSRC participated in the Science Adventure Camp, and it happened as a result of Kate's involvement at another local education event. There, she connected with Beverly Long of the Regional Recycling Coordinating Committee (R2C2), who asked her to teach at the Charlotte day camp.
"Partnering with other recycling organizations and environmental initiatives makes us stronger, and ultimately helps us reach more people. It's awesome to see SSRC students taking initiative and volunteering to help educate the next generation," said Katie D., coordinator of the Recycling Outreach Team. "I'd guess that Lea and Kate inspired the kids, and vice versa. That's why working together is so important – it helps all of us stay motivated."
***
Below is a summary of the activities, we hope they come in useful and spark ideas of how you can discuss sustainability.
Ocean Pollution Board:This board aids in discussion about microplastic pollution, common ocean pollutants, and shows the five main ocean garbage patches on a map. The size of each patch is made to reflect real conditions. On the back, the board takes a closer look at the Great Pacific Garbage Patch, showing microplastics and the currents that produce the two gyres that make up the patch. We provide key reasons that ocean pollution is a problem and what we can do to reduce it. We also added a description of how data has been collected in the Great Pacific Garbage Patch.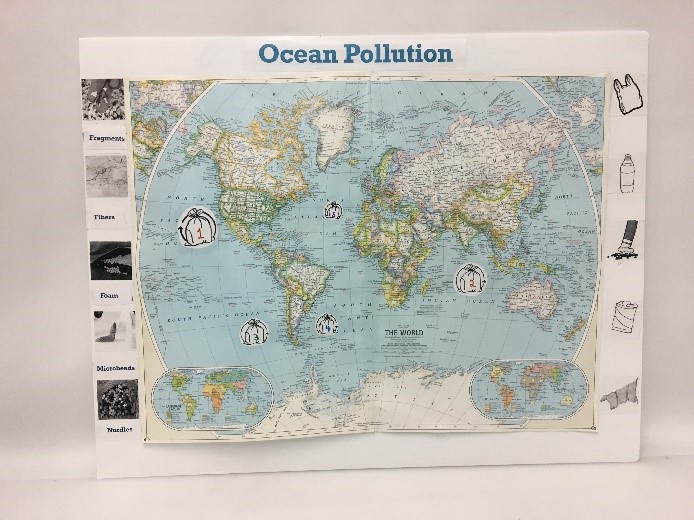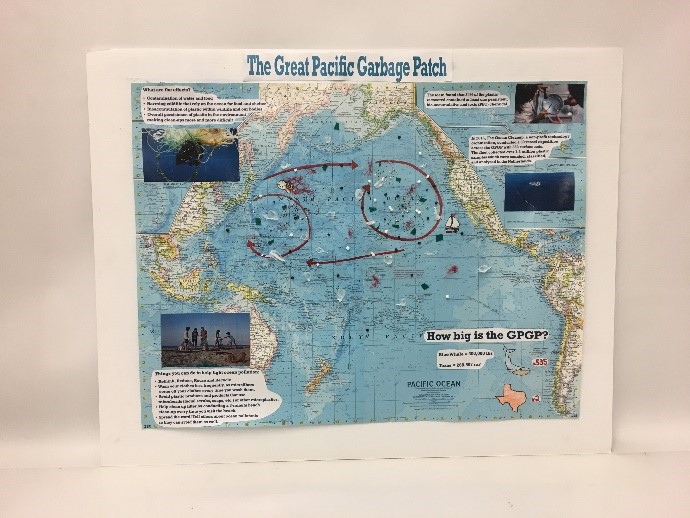 Garbage Graveyard: Tombstones labelled "RIP less than 200 years," "RIP 450 to 2,000 years" and "RIP 1 million years or more." Three kids volunteer to hold the tombstones, and stand in different areas of the space. Give each of the remaining kids an item made from various materials, such as glass, polystyrene (Styrofoam), paper, fabric, a compostable item, etc. Then let them walk to the tombstone where they think their material belongs, based on their guess of how long the material lasts in a landfill. Then, discuss the answers as a group, starting with the less than 200 years, up to 1 million or more years.
Approximate time materials last* in a landfill:
Banana: 1 month
Paper: 3 months
Cardboard: 5 months
Fabric: 30-40 years
Aluminum: 200-500 years
Plastic: 500-1,000 years
Styrofoam: 500 years
Glass: 1 million years**
*Note that some materials (plastic) do not biodegrade, but simply breakdown into smaller pieces.
**Glass is infinitely recyclable, however, and this should be highlighted!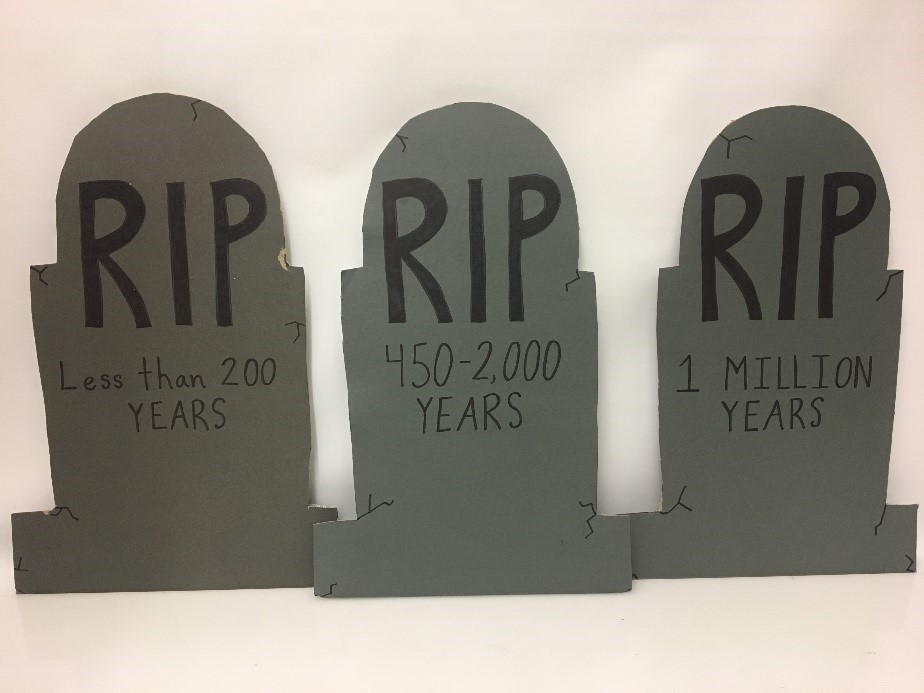 Recycling Steps Cards: This activity pertains to what happens to recyclables after they're placed in a recycling bin, have been sorted by type at materials recovery facility, and are ready to be processed into post-consumer recycled material. Create three stacks of cards, one for metal, paper, and plastic. Each card symbolizes a different step in the recycling process. Label it by name and include photo or other visual representation.