Posted by Katie Deska on Jun 21st 2021
The MSU Surplus Store is responsible for the collection and redeployment of all information technology and audio-visual equipment for campus and extensions, as well as ensuring all data is appropriately removed from every electronic device. All IT equipment is either refurbished for sale or recycled in an environmentally-friendly way. Here is a bit more about how the IT department of the MSU Surplus Store & Recycling Center works with IT and AV equipment:
Data Destruction: We follow the standards outlined by Department of Defense and the National Institute of Standards and Technology for data destruction. We use software/hardware that complies with those standards to wipe devices. Certain devices take different methods for data destruction. If we are not sure a unit/device has been wiped then we destroy it, usually in the on-site hard drive shredder.
Reuse: We try to give all items a second life before they become obsolete. This includes desktops, laptops, TV's, projectors, DVD players, VHS players, home routers and networking equipment, enterprise equipment, medical equipment, etc. To keep these items in circulation, our staff works on repairing and refurbishing the electronics to sell through the MSU Surplus Store. To learn more about planned obsolescence, the risks associated with mismanaged e-waste, and more, check out the Electronic Waste section of the Environmental Justice & Sustainable Purchasing resource guide for documentaries and academic articles.
Recycling: For items that cannot be reused or refurbished, we disassemble them, sort the components, and either reuse the parts or ship them out for proper recycling. We sort items into the following categories: metal, plastic, circuit boards, screws, cables, and hard drives. In general, metal and plastic are baled and sent to local and regional recyclers; screws are bagged, priced, and sold through the Surplus Store; and select circuit boards and hard drives are sent to accredited e-waste recyclers, who then further disassemble/sort the material and ship it out to be refined. The vendors that we work with for electronic waste recycling meet accredited certification standards for responsible electronics recycling.
Tips for Reducing Electronic Waste:
Use products for as long as possible. This is the single most effective thing you can do to minimize e-waste and the negative effects on the planet.
Choose products that are designed to enable a more circular model and can live multiple lives by being repaired, upgraded and refurbished.
Consider if someone else might find the product useful when you no longer use it. Sell it or donate it whenever possible.
Make sure the product is recycled in a safe and responsible way at the end of its usable life.
Purchase secondhand electronics when possible.Shop at the MSU Surplus Store or other retailers.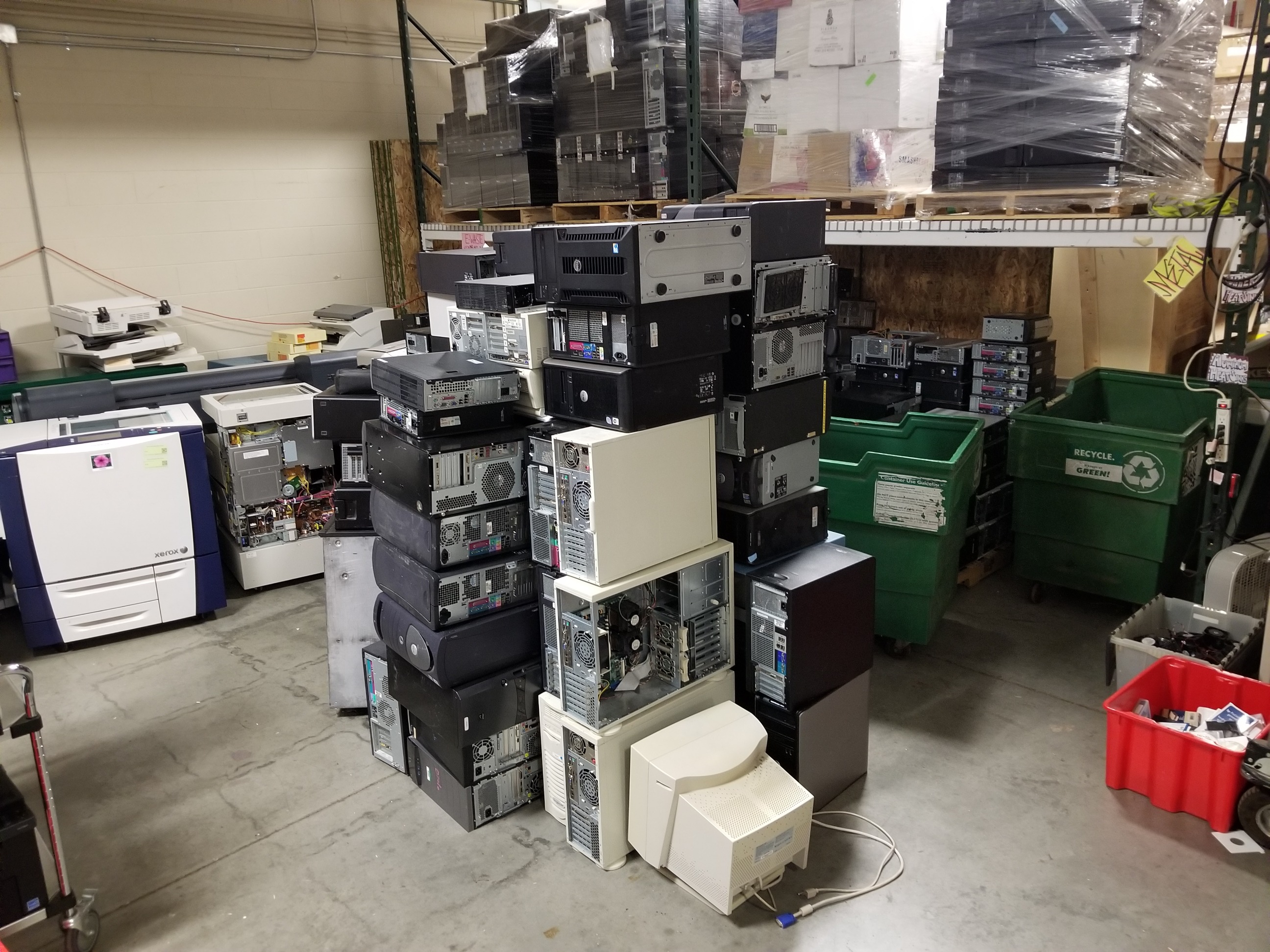 Photo Above: Stack of computers prepared for processing by the SSRC IT department. Top Photo: Inside of a desktop computer, which may be refurbished and sold or disassembled and prepared for parts reuse or recycling.