Posted by Katie Deska on Sep 21st 2021
Fall semester 2021 brought many Spartans back together after over a year of challenges, pivots, and various states of "the new normal." The MSU Surplus Store & Recycling Center plays a role in many campus activities, whether its behind-the-scenes, on the front lines, or as a partner. Here are few highlights from the first month of the new academic year.
The return of fans brings increased post-game day recycling
Game days don't end on Saturday for many hard working Surplus Store & Recycling Center staff and others from Infrastructure Planning and Facilities.
On Sundays after home games, a group of staff disperse across campus grounds to empty trash and recycling bins and pick up litter from Spartan Stadium and tailgate areas. Then on Mondays, SSRC staff in the material recovery facility begin sorting and bale the recyclables.
After the September home game victory over Youngstown State, MSU Recycling baled over 600 lbs. of water bottles from Spartan Stadium to be shipped out for processing. This is just one of the ways we help MSU manage waste as a resource.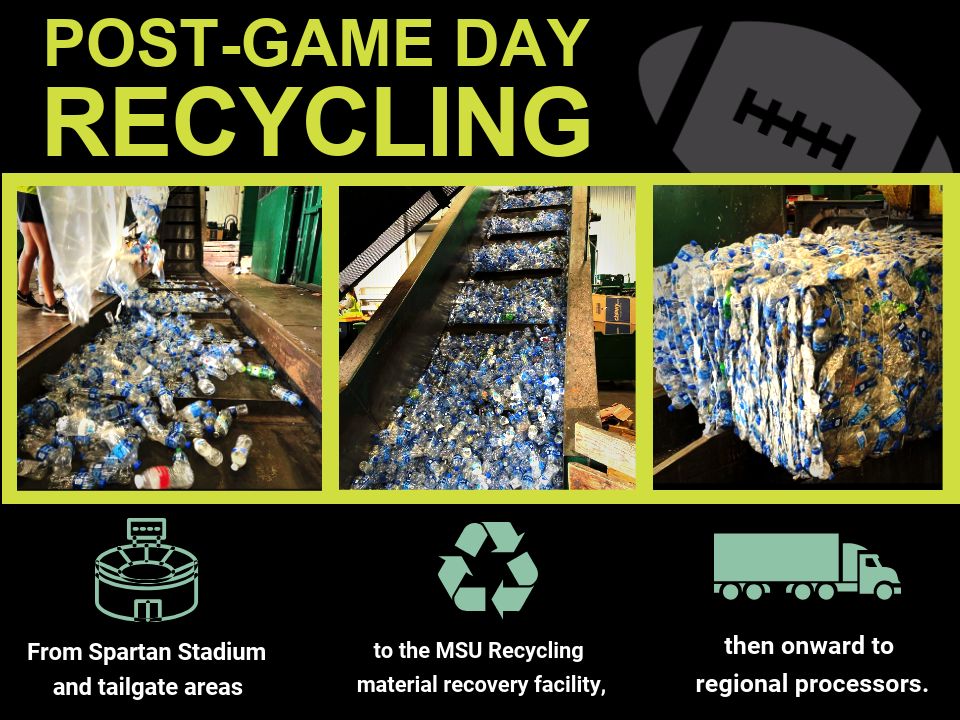 Two-thirds of student move-in waste diverted from landfill
With the help of Residential Hospitality Services, volunteers, and SSRC staff, Spartans diverted 66% of waste generated during on-campus move-in. The diversion rate refers to how much waste was kept out of the landfill.
A 66% waste diversion rate was achieved by composting appropriate food waste, which accounted for 4% of the total, and recycling 62% of the material, including a whopping 95,000 lbs. of carboard -- the weight of approximately 10 female Orca whales!
See more residential housing data at RHS Impact, and learn more about how you can choose your impact on campus.